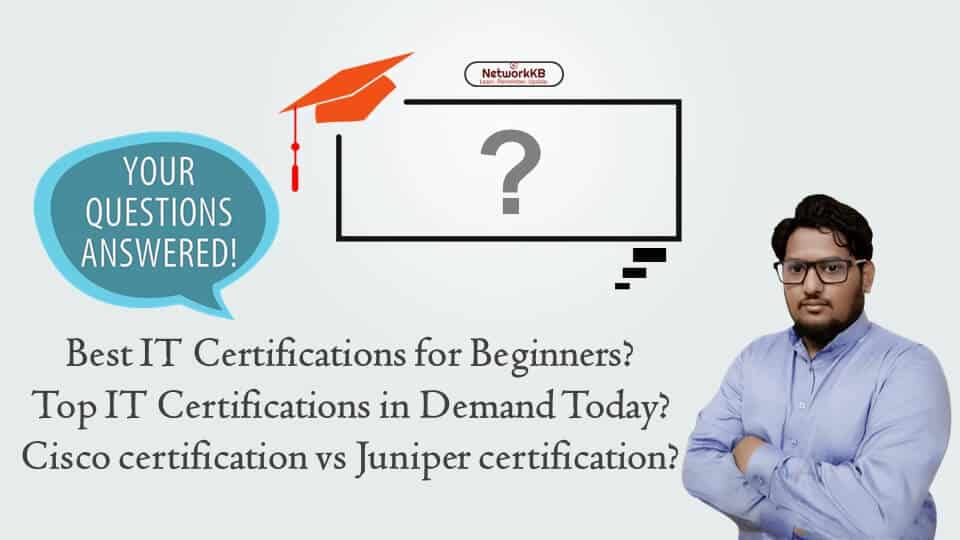 CISCO CERTIFICATION V JUNIPER CERTIFICATION
WHICH IS BETTER?
Cisco is the leader in networking. So, Cisco certification is generally preferred. As a network engineer, you would see, more cisco devices then the juniper devices. Cisco commands and juniper commands vary. It's always, an advantage, if you are both, Cisco and Juniper certified as nowadays, most of the networks are multi-vendor.
Companies too, are keen in hiring engineers, that are multi-vendor certified.
So, a cisco certification is a must, and both cisco & juniper certification is an advantage.
WHICH ARE THE BEST IT CERTIFICATIONS FOR BEGINNERS?
There are many fields in networking: routing & switching, security, Design, data centre, Service Provider, cloud, collaboration. The new ones are: automation, SDN and many more are emerging.
While there are so many fields to choose from, Cisco and Juniper has made it simple to understand the co-relation between the fields. If you are interested in Security, Design, Data centre, you have to be a CCENT or CCNA routing and switching certified, other pre- requisite is being a CCIE certified . On the Juniper side, it's the JNCIA-Junos
CCNA Routing and switching is one of the pre-requisites for multiple fields and covers all the basics required in our day to day networking. Hence CCNA Routing and switching is one the Best IT Certifications for Beginners.
Choosing cloud is also a good option, as most of the networks are now either moving to cloud or integrating with cloud.
WHICH IT CERTIFICATIONS ARE IN DEMAND TODAY?
With the second question answered, it's clear, that CCNA routing and switching is the best certification for beginners, but that doesn't mean, you have to stop your certification with just CCNA. Security is and will always be in demand as, securing the network is a continues process. Cloud too, is in demand. Most of the companies are integrating automation in their networks. So, automation is in demand too. Juniper has a dedicated certification for automation, with the pre-requisite of JNCIA.